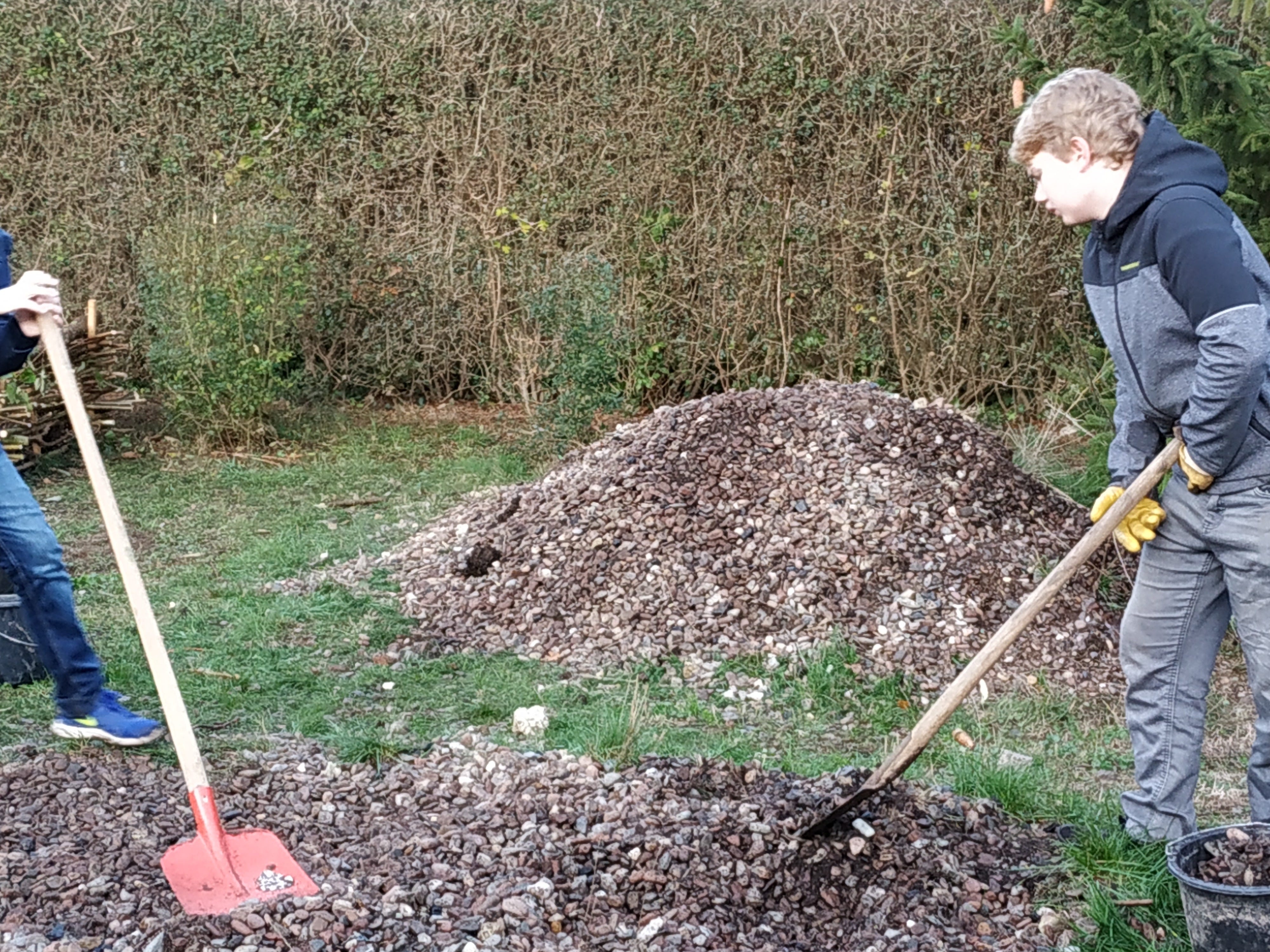 Building our School Garden
Here we have collected some important steps while building and creating our school garden. Read about our pond, the raised beds and other important parts of our garden.
Building the Pond
For the school garden the pond is very important since the plants need water. There are no water pipes which could guarentee the water supply.

The German texts were written by
Tabea Bartosch, Ann-Sophie Kutschera and Tamara Möller.
[DE] Als erstes haben wir die Erde aus dem Teich gehoben. Außerdem haben wir das Unkraut am Rande des Teiches entfernt.
[EN] First we have excavated the earth for the pond. Additionally we have pulled out the weed.
[DE] Ein paar Schüler kümmern sich darum, dass der Teich tiefer gelegt wird. Zusätzlich wurden Stein-platten vor den Teich gelegt, damit die Teichfolie ihre Stabilität
bekommt.

[EN] Some students took care of lowering the hole for the pond. Stone plates were placed around the pond to fixate the pool liner.
[DE] Der Teich wird mit Folie ausgelegt und wird nun befüllt.

[EN] The pond is inlayed with pool liner and can be filled with water.
[DE] Die Füllung des Teiches ist nun vollendet.

[EN] The filling is completed.
[DE] Zur Befestigung der Teichfolie haben wir Kies an den Rändern ausgelegt. Es werden Wasser-pflanzen in den Teich gesetzt.

[EN] To fixate the pool liner even more gravel is being placed on the outline. Water plants are added to reduce the evaporation.
[DE] Nun ist der Teich fertig gestellt und durch die Wärme sind Algen entstanden wodurch der Teich verdreckt ist.

[EN] The pool is completed but because of the hot weather there are algea spreading. That is why the pool looks dirty.
Building the Raised Bed
A raised bed is a great way to create a secured space for your crops.

The German texts were written by
?.
Other important aspects of our garden
A raised bed is a great way to create a secured space for your crops.
Grill Station
Nothing connects people more than eating together. During summer time having a barbecue is the best way to get into contact and feel cozy (even in school).
Sustainability
In winter time we decided to use an old washing machine drum as a grill to make campfire bread.
The bees are our best friends
So we should do something for them. But not only the bees need our help - other insects are in need to. So we provided spaces for them to nest and dwell.
Wild herbs
There are way to few herbs for the bees and other insects - so every garden should provide insect friendly herbs and refrain from using toxic chemicals for weeding.
Other patches
You don't need a raised bed for every plant. We created various patches to provide a range of crops.